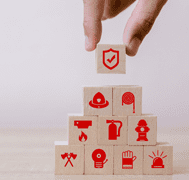 You may inspect fire doors as part of your job, but if you're like most who do the same, you're likely not just a fire door inspector!
You (or the company you work with) probably also repair, maintain, and install fire-rated doors, too.
You might also work with, or work in a company involved with, fire sprinkler systems, fire extinguishers, fire alarm systems, and more, each with its own inspection, maintenance, and installation requirements.
You could even be involved in restaurant fire systems, including hood installation, exhaust fans, ductwork installation, ecology units, makeup air, hood filters, and more.
You're probably already using an app to automate and streamline your fire door inspections. You know how this technology can dramatically increase the quality of your work. So why not investigate systems for the rest of your tasks?
Some apps you might consider include:
Not seeing a fit for your needs? You might consider designing your own custom app.
While there are great ready-made apps on the market you might not be able to find one specifically for your niche. And if you can't find it, it's likely that others in the industry can't either!
Or you might have found an app that meets some of your needs, but not all of them. Rather than making do with something that's just okay, why not design something better?
For example, if you love the Fire Door Safety Inspection App and/or Service Call, and want something similar for, say, installing fire doors, or maintaining/inspecting fire alarm systems, you could work with the people who produced the app to design one that meets your needs.
Together, with an experienced mobile app development group, you could help design similar apps that offer productivity improvements and sell them to others in your industry, bringing in even more profit.
At mpengo, we offer custom app design services alongside our own developed apps. Want the equivalent of Service Call for a specific industry? No problem. Have an idea for an app you think could be great? We can help.
We work with you to design portable apps that automate and digitize your maintenance and installation work.
Learn more about working with us today. Call 1-855-840-3064 or visit https://mpengo.com/app-development-services/.