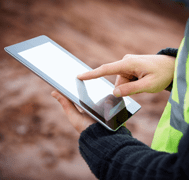 Routine fire door safety inspections have become regulated and commonplace in North America, especially if you oversee property or facilities management.
When a fire door inspection is needed, the most time-consuming part of the process, however, isn't the inspection itself — it's the resulting paperwork.
For every fire door you inspect, you need to create a report. If you are a self-employed fire door inspector, this often happens at the end of the day — potentially even going into the evening. If you are a fire door inspector for a larger company, this might be done at the office, but it still might take 30 minutes (or more!) per door to do a properly documented report and eats away time that could be spent on other tasks.
But paperwork is a necessary evil, right? Maybe not… What if we told you that you could do away with it almost all together?
We've created a free eBook, Digitizing Your Fire Door Inspection.
In this eBook, we'll show how to maximize the time spent on fire door inspections to virtually eliminate reporting paperwork using technology. You'll be able to save time, save money, and save the hassle of juggling masses of papers.
Download your copy today: https://mpengo.com/digitizing-your-fire-door-inspection/
mpengo's Fire Door Safety App is designed for fire door inspectors. Learn more and download a free trial: https://mpengo.com/fire-door-inspection-app/