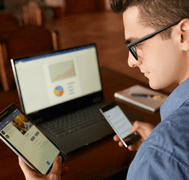 Fire door safety inspectors often have a lot to bring with them to the job.
You might require:
A clipboard and pen.
Standardized forms.
A smartphone.
A digital camera.
A tablet or laptop.
Pressure gauge.
Measuring tape or rule.
A flashlight.
Screwdrivers
Magnifying glass.
Gap measure tool.
Telescoping inspection mirror.
Telescoping magnet.
And more.
This can be a burden to carry around, especially if you are inspecting a large batch of doors in one go.
However, not only can this be a hassle to bring with you, but it can also take up more of your time. Think about it — when you have to cart around of this equipment, it takes you longer to get out of the office. It takes you longer to get into the building. It takes you longer to do the physical inspection. It takes you longer to move from door to door. It takes you longer to pack up. The list goes on…
It might seem like all of these fire door inspection tools are a necessary evil. But what if they weren't? What if we told you there was an easier way — a way that would allow to combine some of these tools, save time and, ultimately, save money?
The secret is inspection technology.
If you have the right fire door safety inspection technology, you could easily combine:
The clipboard and pen;
The standardized forms;
The smartphone;
The digital camera;
The flashlight;
The tablet or laptop;
And potentially even the measuring tape,
All into one tool. This would mean much less equipment to lug around.
There are other advantages to inspection technology like this, too. Certain fire door safety inspection apps will allow you to have a checklist on your smartphone or tablet. This will let you record all of your measurements and notes in one location. You can even use the app to take photos of clearances and deficiencies and store them all in one place, all associated to the same door.
With this ease of use, you can actually compile your report virtually at the click of a button. No more long nights spent reporting and invoicing — all of it is done at the time of the inspection.
This also eliminates the need for desktop-only solutions that you might currently be using. For instance, if you are creating your reports in Microsoft Excel, you wouldn't need to do so anymore with the right app.
There are even apps that help you take measurements right from your smartphone.
Now you would only need to bring:
Your smartphone or tablet.
Your screwdrivers.
Magnifying glass.
Telescoping inspection mirror.
Telescoping magnet.
And any other specialized equipment that can't be done through a smartphone.
The key is choosing the right fire door safety inspection app for your purposes.
That is where mpengo comes in. We have developed a Fire Door Safety Inspection App that meets all of these needs and more. You can even download a free trial of our app so you can try before you buy.
Plus, the Fire Door Safety Inspection App gives you a fully documented inspection report with the click of a button. It's simply not good enough to scribble a few handwritten notes on a hunk of paper, throw it into a file, and declare the annual inspection report complete. This might be legal, but is it safe? The Fire Door Safety Inspection App helps eliminate that risk.
Learn about mpengo's Fire Door Safety Inspection App today: https://mpengo.com/fire-door-inspection-app/.