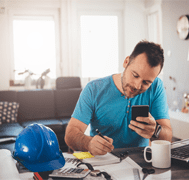 Self-employed fire door inspectors face different challenges than those working for companies.
There are a lot of perks to being self-employed, but the challenges can make it harder at times. If you're a sole proprietor, you might have found some common scenarios crop up. Luckily, there are solutions available.
The problem: You do all your inspections during business hours, but then are up late into the night working on reports. Whereas an inspector working for a company might have an assistant to help them out with this, you're doing it all on your own. This can cut into time spent with family, other work, or just your time to relax.
The solution: Look for technology that saves time at the reporting stage. For instance, if you use the mpengo Fire Door Safety Inspection App, all of your important details are recorded at the inspection stage, so your reporting time is cut significantly.
You can have your evenings back!
The problem: You're constantly drowning in a sea of invoices. The paperwork piles up and you find yourself spending whole weekends making bills, going through old notes and records, and otherwise pulling out your hair.
The solution: Look for an app that lets you invoice on-the-go. For instance, with the Fire Door Safety Inspection App, you can bill clients right from your mobile device. Compile your report and send out your report and invoice before you've even left the site.
The problem: You have to foot the bill on any additional technology or expenses. Your budget might be more limited when it comes to fancier tools, like digital cameras, software, etc.
The solution: Look for affordable technology that is scalable. For instance, with the Fire Door Safety Inspection App, you can purchase inspections as you go, or in bulk, depending on your needs.
Smart investments can also help. You don't need a fancy digital camera, for instance, to take photos at sites. You can use your smartphone or tablet instead. Many mobile apps offer convenience and time saving for a low price.
The problem: Your time is split between inspections and finding new clients. Sales prospecting is necessary, but it can also cut into your billable hours. You might not have an assistant to help out.
The solution: Look into digital solutions, such as digital marketing, to automate your lead generation. You can also use a scheduling app to connect clients to you and schedule appointments while in the field.
Also, if you are saving time on the reporting side of the equation, you could use some of your new-found time to put more into finding leads.
mpengo's apps help self-employed fire door inspectors make the most of their time. Start using the Fire Door Safety Inspection App today — inspect fire doors from the palm of your hand and save up to 70% of your time!
Download a free trial of the Fire Door Safety Inspection App: https://apps.apple.com/ca/app/firedoor-safety/id1458566628
Want to learn more about mpengo's other apps, or custom app design services? Call 1-855-840-3064 or visit www.mpengo.com.