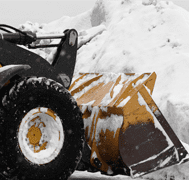 The time is ripe for snow removal businesses as winter is upon us. For those who run snow plowing companies, the months of December to April are vital to their yearly income.
With that in mind, there are several ways that snow removal business can take advantage of the winter months to increase their profits and stand out from the crowd. Here's how to get started:
Track Your Work
It's good business to record all of your work, including dates of visits, the snow conditions, your salt logs, any notes, photos and more.
This is not only good due diligence for your own records, in case a client disputes that you did the work, but it also provides an invaluable service to clients because you can provide them with full and complete documentation of the work performed – including salt and clearing logs and integrated photos. All it takes is one little slip and without the proof that the clearing was done, your client could have serious problems.
By doing the work upfront, and tracking your time and resources, you'll be prepared should you need to show proof.
Follow Up with Clients Automatically
Certain technology allows you to send salt logs and reports to clients for any period, be it daily, weekly, or monthly. This will show that your snow removal business is reliable.
With Snow you can:
Perform the snow clearing and salting as required.
As you finish each potential problem area, just take a quick shot or two to record that the job was done and done properly.
Periodically send the completed reports and logs to your client (or maintain the files yourself).
As we mentioned above, this is especially useful for cases of litigation. You can also send these reports to any partners, such as landscapers, property managers, or insurance adjusters. A good reputation equals better business!
Monitor Your Team's Logs
If you run a larger snow removal operation, or work in a management role at one (for instance, a landscaper that also provides snow removal services) you might have multiple crews out in the field or use sub-contractors.
Even if you trust your team completely, it is still good due diligence to implement a company-wide reporting policy and monitor their logs. This will help you ensure that you are delivering client requirements and improve as needed.
If you work with sub-contractors, this is a great way to make sure that they are actually following through on your requests and it may be more affordable than hiring in-house staff.
Create Reports from Your Phone
One of the most time-consuming parts of a snow removal operation can be the reporting. And if you have a lot of clients, the reporting can eat into your potential billable hours, too.
However, you can finish more jobs while creating better-quality reports easily — with the right mobile app.
Some apps allow snow removers to track their work from their iPhone or iPad. With these, you can take time- and date-stamped photos of the work done, record property details, track removals and salting, and more on-the-go. This can cut down on administrative time and reduce the need for an administrative assistant.
Doing this can give you more hours back in the field, creating more profit.
Store Property Information and Important Contacts
What is the most important time of year for finding new snow removal business? If you said the winter, it might be too late.
If you are waiting until the winter to book snow removal clients, you'll be reaching out and advertising at the same time as your competitors. However, you can get an edge on the competition by starting earlier.
By keeping track of property and customer information, you can easily contact past clients early in the season – even before the first snowfall – to make certain that you are still their preferred contractor. Because you'll have the historic data saved, you can also see exactly how many times you went out in a previous year and use it to provide an estimate to your potential clients.
Download Technology That Does Snow Tracking for You!
Technology for snow removal companies has come a long way and is a key part of saving time, saving money, and standing out from the competition.
Take for example mpengo's Snow. With this app for iPhone or iPad, snow removal businesses can:
Record daily snow removal, salting, and property visits, complete with time-and-date-stamped photos.
Customize the information required in the daily logs.
Send salt logs and reports to clients for any period.
Upload logs back to the office computer, including photo attachments.
Store property information and important contacts.
And more!
Download mpengo Snow today. Access it here: https://apps.apple.com/app/mpengo-snow/id466251180?ls=1
Work smarter, faster, everywhere with mpengo. Contact us to learn more about our apps and custom design solutions. Call 1-855-840-3064 or visit www.mpengo.com.